GIARI:Political Integration and Identity Seminar
"Russia's Evolving Relations with East Asia"
2009.10.14
Date/Time : October 14, 2009 ; 14:00-17:00
Venue : Room 710, Building 19, Waseda University
Facilitator:Tsuneo Akaha
(Professor of International Policy Studies and Director, Center for
East Asian Studies, Monterey Institute of International Studies
Visiting Professor, Waseda University Institute of Asia-Pacific Studies )
*Language: English (No Translation)
Admission Free
Pre-registration Required
(We accept pre-registration until 10:00a.m. 14th, October.
After that, please register on the reception at Room 710. )
The pre-registraion is now closed.
Please register on the reception at Room 710.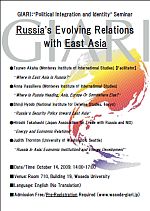 Poster[104KB]
Schedule:
Russia's Evolving Relations with East Asia
Room710, Bulding NO.19 Waseda University
2:00-5:00 pm, October 14, 2009


2:00-2:10 pm
Introduction

2:10-2:30 pm
Tsuneo Akaha (Monterey Institute of International Studies)[Facilitator]
"Where in East Asia Is Russia?"

2:30-2:50 pm
Anna Vassilieva (Monterey Institute of International Studies)
"Where Is Russia Heading, Asia, Europe, Or Somewhere Else?"

2:50-3:10 pm
Shinji Hyodo (National Institute for Defense Studies, Tokyo)
"Russia's Security Policy toward East Asia"

3:10-3:40 pm
Discussion

3:40-4:00 pm
Coffee Break

4:00-4:20 pm
Hiroshi Takahashi (Japan Association for Trade with Russia and NIS, Tokyo)
"New Development of Japan-Russia Economic Relations"

4:20-4:40 pm
Judith Thornton (University of Washington, Seattle)
"Russia in Asia; Economic Institutions and Energy Development"
4:40-5:00 pm
Discussion

Achievements