Economic Integration and Sustainability
Research:Seminars/Workshops
OECD Lecture Series: "Noda Cabinet's Economic Strategies and Asian Regional Economic Integration", Dr. Randall Jones, Japan and Korea Desk Head, OECD
2011.10.07
lecturer: Dr. Randall Jones(Head of Japan/ Korea Desk,OECD)

Dr. Randall S. Jones has been Head of the Japan/Korea Desk of the OECD Economics Department since 2002.
During his 22 years at the OECD, he has helped write eleven Economic Surveys of Japan and twelve Economic Surveys of Korea and, in addition to working on several European countries. He has published extensively while at the OECD, including works on economic and financial restructuring in Asia.
Prior to joining the OECD, he worked as a staff economist at the US Council of Economic Advisers, as Senior Economist at the Japan Economic Institute and at the US State Department.
Mr. Jones holds a PhD from the University of Michigan.
Time and Date:13:00-14:30, Friday, October 7
Venue:710 room, 19 Bldg. Waseda University
English(No translation)
No pre-registration
Admission Fee: Free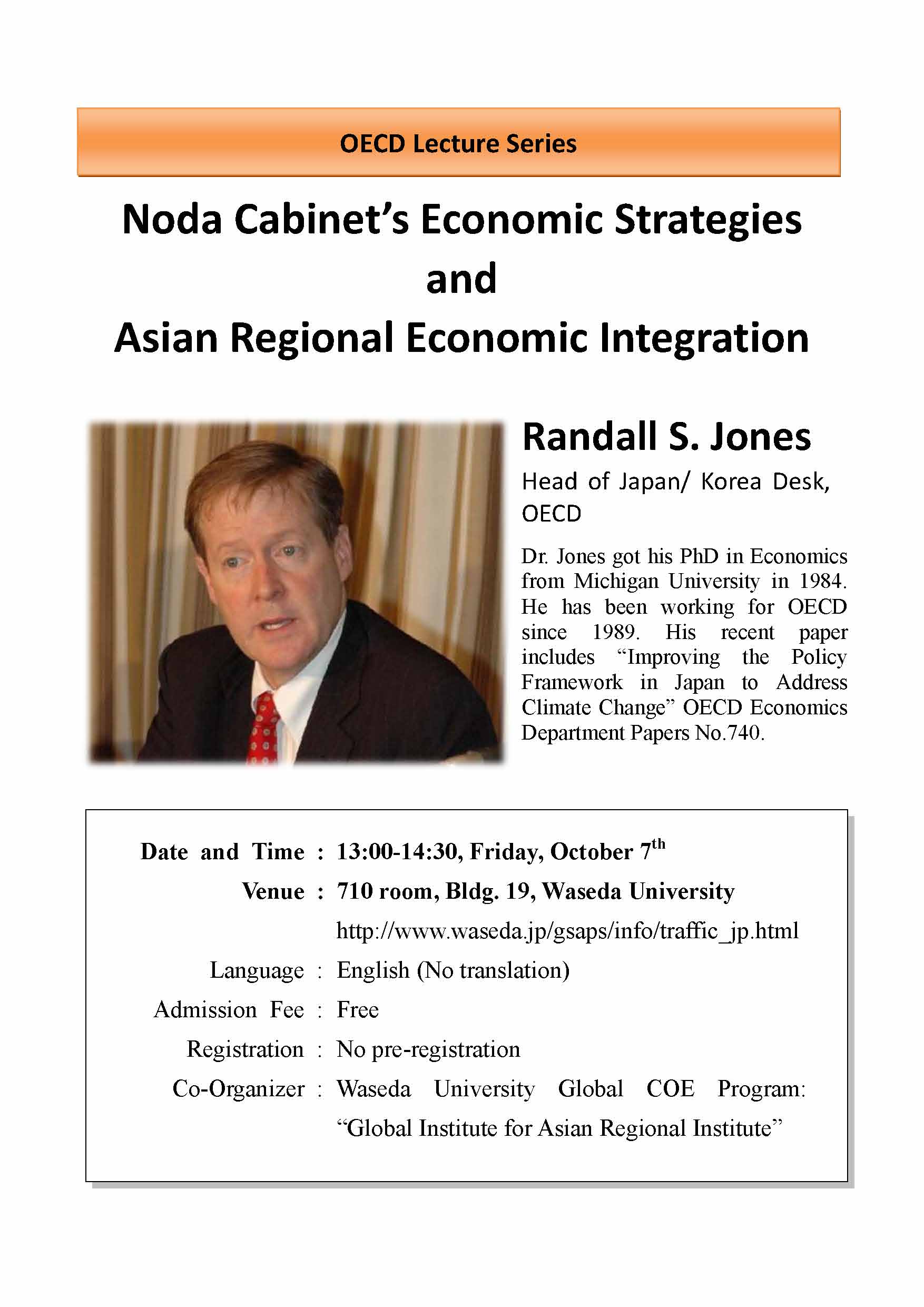 poster[128KB]

ppt
OECD Lecture Series: "Noda Cabinet's Economic Strategies and Asian Regional Economic Integration" Q&A
After the lecture, Dr. Jones answered to questions from the audiences with the Q&A session. We had fruitful discussions with him on several issues in Asia and also learned strategies and perspectives of OECD. The questions were raised on various subjects, such as global financial crisis, OECD's view for Asian countries, FTA issues, and advices to Japanese government on reconstruction matters after the Tohoku earthquake in March.
As only a few Asian countries are members of OECD currently, he argued that OECD needs to focus more on Asian region and accept them more as member countries with pointing out the growing presence of Asian economies and their maturing democracy. Regarding OECD's advices for Japanese government, he emphasized that the government should take this situation as a new opportunity to reconstruct domestic system in order to establish the efficient economy. He suggested the financial reconstruction through raising tax revenue and encouraged to open world economy through free trade agreements under the better supervision and rules. He also mentioned that current condition of strong Japan's yen is not a key problem for reconstruction, since this is a kind of usual pattern in previous exchange rate history.
Photo