GIARI & Politics and Security Field
Research:Publications:Working Papers FY2008(english-27,japanese-4)
Institutionalization of Regional Metagovernance
Framework to Enhance Human Security in East Asia
/ Changrok Soh
2008.05.30
working papers
Excellent papers on Asian regional integration, which are prepared mainly by young researchers such as GIARI members, co-researchers, research fellows, and research assistants, will be published as working papers. Contributed papers, written in English or in Japanese, will be reviewed and examined by the editorial committee before publication. GIARI donates published papers to the libraries of Waseda and other related universities, research organizations, etc.

GIARI Working Paper Vol. 2008-E-2
GIARI Working Paper Vol. 2008-E-2,
May. 30, 2008
2008-E-2
Institutionalization of Regional Metagovernance
Framework to Enhance Human Security in East Asia*

Changrok Soh
Dean, Graduate School of International Studies, Korea University

May, 2008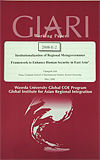 *This paper is a draft version for presentation purposes only and should not be used for citation.
Index
I. Introduction
II. Conceptualization of Human Security
III. Regional Efforts to Building Human Security in the International Arena
IV. Understanding East Asia: Characteristic Threats and Conditions
V. East Asian Metagovernance Structure
VI. Hypothetical East Asian Metagovernance Framework Proposal

Case Study: Towards Achieving the MDGs
International Organizations
State Actors
NGOs and Civil Societies
Private Sector

VII. Conclusion