GIARI
Research:Symposia
The 2nd International Symposium – Human Mobility and Regional Integration in Asia: The Current Situation of Higher Education and Labor Market and Policy Response
2008.12.13
Date: December 13 (Sat.), 2008
Organizer: Waseda University Global COE: GIARI
Program for Promoting Advancement of Academic Research at Private Universities of MEXT
Co-organizer: Graduate School of Asia-Pacific Studies, The Waseda University
Sponsored by The Asahi Shimbun Asia Network
Venue: International Conference Center, Waseda University
Ibuka Masaru Memorial Hall
Admission: Free
No pre-registration
Language: Japanese and English (simultaneous interpretation available)
Sponsored by The Asahi Shimbun Asia Network


Poster [280KB]

Brochure [1643KB]

Symposium Objectives
When considering the integration of the Asian region, it is impossible to ignore the reality of the increasing movement of people within the region. Global migration is on the rise for a variety of reasons, including for study, work and residence. There are indications that the increasing fluidity inside Asia is facilitating Asian regionalization in the area of society and culture, and may serve as a foundation for regional integration in Asia.
In 2007FY, our Global COE Program conducted a questionnaire survey of more than 2,400 students attending elite colleges in 6 Asian countries (Korea, China, Vietnam, the Philippines, Thailand, and Singapore). Many respondents said that they were considering studying overseas, but that they had no plan to return immediately to their home countries after graduation, but would instead stay and work abroad where they were studying. There results suggest that studying abroad and working are closely related, and that through such movement, certain shared norms and values are developing.
At the same time, according to AsiaBarometer data, people in Asia do not always welcome this kind of international movement, and some are demanding that their government should control the influx of immigrants and refugees into their countries.
What kinds of movement are occurring within the international education market and international labor market? And what agents (for example, universities, multinational corporations and governments) are participating in this movement, and how are they participating? What problem is the movement generating? Could this increase in fluidity be a potential breakthrough for regional integration? What policy measures should Japan adopt in response to the situation?
In this symposium, we have gathered together not just researchers from overseas but also people in charge of relevant policies in Japan, and we plan to develop an in-depth discussion of the various issues involved.
Programs
Dec. 13 (Sat.)
Door opens at 9:30
10:00-10:10 Opening Address Katsuhiko Shirai(President, Waseda University)
10:10-10:30 Address Satoshi Amako(GIARI Leader and Professor of Waseda University)
10:30-11:10 General Overview and Agenda-Setting Shigeto Sonoda(Professor, aWaseda University)
11:10-11:25 Agenda-Setting of Session 1 Kazuo Kuroda(Professor, Waseda University)
11:25-11:40 Agenda-Setting of Session 2 Mitsuhide Shiraki(Professor, Waseda University)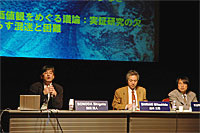 11:40-13:00 Lunch
Session1 The Current Situation and Problems of Higher Education
MC:Kazuo Kuroda (Waseda University)
13:00-13:20 Presenter: Hamidin Abd Hamid(Associate Professor and Deputy Director, Asia-Europe Institute, University of Malaya)
"Contribution of Higher Education for Asian Regional Integration: Experience of the University of Malaya and ASEAN University Network"
13:20-13:40 Presenter: Wanhua Ma(Professor, Peking University)
"International Students Mobility and Asian Regional Integration: Chinese and European Perspectives"
13:40-14:00 Presenter: Supachai Yavaprabhas(Professor of Chulalongkorn University, Director of SEAMEO Regional Centre for Higher Education and Development)
"Beyond International Student Mobility: From Internationalisation to Harmonisation of Higher Education in Southeast Asia"
14:00-14:20 Commentator: Akira Ninomiya(Vice President, Hiroshima University)
14:20-14:45 Questions and Answers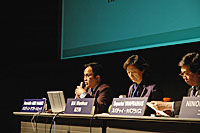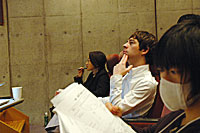 14:45-15:00 Coffee Break
Session 2 The Current Situation and Problems of International Labor Market
MC: Mitsuhide Shiraki(Waseda University)
15:00-15:20 Presenter: Wonshul Shim(Professor, HanyangUniversity)
"Expatriates Management in Asian Region of Korean Multinationals"
15:20-15:40 Presenter: Takashi Umezawa(Professor, Kokushikan University)
"Software Engineers' International Division of Labor in Asia"
15:40-16:00 Panelist: Gary Oddou (Professor of International Management, Director of the Global Business Management Program, California State University San Marcos)
"International Migration of Managerial Resources in Asian Region with Special Reference to the Asian Integration"
16:00-16:20 Commentator: Tatsuya Shinkawa (Director of Human Resource Policy Division, Ministry of Economy, Trade and Industry (METI))
16:20-16:45 Questions and Answers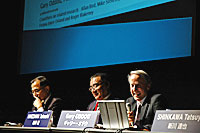 16:45-17:00 Coffee Break
Session 3 Regional Integration in Higher Education Market and Labor Market
MC: Shigeto Sonoda(Waseda University)
17:00-18:00 Discussion by All Presenters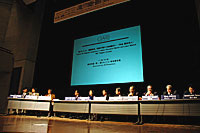 18:15-20:00 Reception
Report