Political Integration and Identity
Cultivating Talented Individuals:Support Scheme:Investigative Research Assistance (for student)
Han Pei-Chun / Investigation Area: Singapore and Taiwan
2009.12.11
Affiliation: GSAPS
Year: D5
Name: Pei-chun Han
Itinerary: 12/11/2009 - 12/28/2009

Destination (Name of city and country)
Singapore and Taiwan

Research objectives
The meaning of this trip has twofold objectives:
Singapore: to present a paper on the international workshop "Transnational Migrant Identity in Asia: Intersecting Cultural, Social and Economic Dimensions," I was invited to at the Nanyang Technological University in Singapore.
Taiwan: to obtain required documents for references on Taiwanese society and politics for enhancing literature review, I visited my undergraduate school of the National Taiwan University for scholarly networking with academic partnership.
Research project
This study examines the dynamic nature of ethnic identity development and construction of immigrants in their host society. It focuses on the case study on first-generation Taiwanese in contemporary Japan. This group of overseas ethnic Chinese came to Japan from Taiwan after the end of WWII. They have experienced complex transitions in both legal status and self-identification. Constituted from the legacies of Japanese colonialism and KMT Chinese nationalism, the Taiwanese immigrants constantly negotiate, reconstruct and redefine their identities of incoherent perplexity. This distinctive feature of identity predicament represents a unique case within the population of overseas ethnic Chinese. This studies attempts to argue that the Taiwanese immigrants has constructed hybridized, yet fluid and veiled identities, entangled in-between the two cultures of Chinese and Japanese. This feature of identity struggle, positioning between "being Chinese and/or becoming Japanese," is manifested to a consequence of political ideology of "two conflicting Chinas" as well as post-colonial effect and complex, commonly shared by the Taiwanese immigrants in the postwar era.
Achievement
The workshop "Transnational Migrant Identity in Asia: Intersecting Cultural, Social and Economic Dimensions," at the Nanyang Technological University in Singapore was held for understanding why and how the identities of transnational migrants in Asia intersect and combine cultural, social and economic dimensions rooted in different geographical regions and localities. To further methodological, theoretical and empirical, this workshop of strong interest facilitated the discussions over of why and how these three dimensions interact when migrants carry out their activities in transnational arenas; and how these intersections are related to the cosmopolitan, hybrid, or hyphenated identities articulated in studies of transnational migration. The perspectives of the presented papers included work on cultural and social capital, social networks, transnationalism and globalization, intersectionality, transnational positionality, identity performances and discourses of inclusion and exclusion. The themes addressed in the presented papers for discussion based on the question of how do migrant identities express intersections between cultural, social and economic dimensions with roots in different places.
The workshop was very successful thanks to excellent contributions from the coordinators and presenters. This was a most interesting and cohesive workshop that I had participated in. As we discussed, we agreed on publishing our papers as an edited book if possible. The meanings of home or migrants' restlessness were widely studied and discussed, yet sometimes contradictory of cultural currents is fountainhead of hybridity, creativity and innovation. I learned that a good researcher can always offer sober reminders that stimulate innovativeness and creativity. The power of intellectuality can be best not only seen as a personality type, or an inner psychological attribute, but also as a social process that merges, develops and waits for social realization. It highly depends upon the nature of the interactions between self and others, individuals and society. In other words, the "ins" of creativity awaits the "outs" of external circumstances to be socially "brought out" and "realized." Creativity is of a social process, more than of a personal characteristic.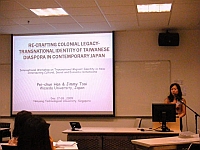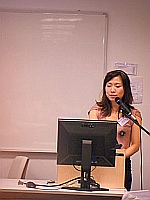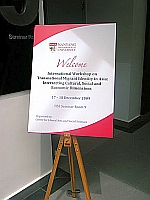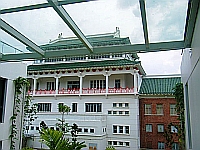 After finishing the presentation in Singapore, I went to Taipei for scholarly networking. I joined the study group led by Professor CY Shih of the National Taiwan University. Since 2000, I established the connection with this study group which provides a forum for informed discussions and scholarly debates over varied aspects of China studies among academics, specialists and practitioners. It aims to modernize, widen and deepen intellectuals' understandings toward various topics regarding China studies. It has built up a foundation for informal cooperation among its members, who are interested in and investigating issues regarding contemporary China all over the world. The trip for networking in Taipei was full of warmth, inspirations and memories.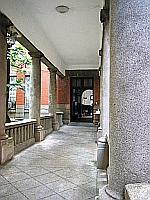 Adviser