Economic Integration and Sustainability
Cultivating Talented Individuals:Support Scheme:Support Scheme for Presentation at International Conference, etc. (for student)
VERICO, KIKI / Monterey (California) and Portland (Oregon), USA
2010.07.09
Affiliation: PhD Student GSAPS
Year: 1
Name: VERICO, KIKI
Itinerary: 06/15/10 - 06/22/10 (Month/Date/Year)

Destination (Name of city and country)
Monterey (California) and Portland (Oregon), USA

Research objectives
AFTA as ASEAN's regional-level trade agreement is assumed to affect FDI flows in Southeast Asia. It is also known that AFTA is currently facing a 'spaghetti bowl' phenomenon as a result of several member-states' direct bilateral trade agreements with non-member states (Bilateral Free Trade Agreement/BFTA) created in parallel. These trade agreements open the closed door of AFTA's trade discrimination to non-member states. This, however, is the direct opposite of WTO's condition of non-discrimination. WTO sees RTAs such as AFTA as complementing multilateral agreements. Pascal Lamy states, "Regional Agreements are like the 'pepper' in the multilateral 'curry'. WTO's success story is a 'necessary condition' in any spaghetti or noodle bowl phenomena. This study assumes that AFTA's trade-investment relationship is weakened by the existence of various BFTAs. Before assessing the trade-investment relationship, this study attempts to show the significant impact of AFTA on trade among ASEAN member states, with a focus on Indonesia, Malaysia, and Thailand. Trade and investment relations will be assessed by evaluating the impact of both AFTA and BFTA on the FDI (Foreign Direct Investment) flows.
This study also examines two facets of EU's successful experience: (1) common production and trade management of particular products; and (2) trade and investment relations in association with collective management of products. It argues that a trade-investment relation develops successfully if there is common management in both production and trade of a particular product. Southeast Asia has product management at sub-regional level in natural rubber product named ITRO (International Tripartite Rubber Organization) which established by natural rubber world main producers (Indonesia, Malaysia & Thailand).
Overall This paper attempts to answer the following four questions:
Does AFTA generate intra-trade relations within ASEAN (namely, between Indonesia, Malaysia, and Thailand (IMT)?
Does IMT's intra-trade stimulate investment creation for them?
Do bilateral FTAs create trade-investment relations in each country?
Does existing sub-regional cooperation, i.e., ITRO, generate positive effects on trade-investment relations?
Research project
The ASPAC International Conference is the prestigious chance for me to present part of my PhD Thesis in international forum and getting invaluable feedbacks from all participants who has various, multidisciplinary academic backgrounds.
Abstract:
ASEAN implemented ASEAN Free Trade Agreement (AFTA) that generates trade discrimination between its member and non member states. AFTA is supposed to increase intratrade among its members. According to the history of the Customs Union (CU) in Western Europe, trade discrimination will create trade diversion in which members will import goods from a less-efficient member rather than from an efficient non-member. If a non-member requires special treatment of FTA, she has to invest in member states as her product will be classified as a member's product and received FTA facilities. FTA is less strict than CU. FTA does not regulate equal tariff between members and non-members. It may open trade leakages because non-member states still have a chance to make trade relations with members which have lower tariff barriers. In the case of AFTA, Singapore, Brunei, and the Philippines applied lower tariff barriers than other members such as Indonesia, Malaysia, and Thailand (IMT). This study argues that trade and investment relations is the core of regional integration process which is significant to transform a regional cooperation from trade (free flow of goods) to investment cooperation (free flow of capital and people). Free trade and investment liberalization are necessary conditions in achieving financial integration with its ultimate objective: "single currency".
This study focuses on IMT because they still keep relatively high common tariff barriers for non-members. Questions to be addressed are: Does AFTA generate intratrade? Does intratrade affect FDI? AFTA has vulnerability in attracting FDI inflows from non-member states compared to CU. Currently ASEAN is facing a serious threat from the double-track agreement, i.e., AFTA and bilateral FTA with non-members. This double-track agreement creates a "spaghetti bowl effect" in ASEAN. AFTA is believed to have become weakened ever since bilateral FTA's emerged. This study tries to see the recent role of AFTA at the sub-regional level (IMT) after those bilateral FTA's. It is important to identify the most appropriate way for generating trade and investment through AFTA and bilateral FTA's. This paper adopts some macroeconomic variables which affect FDI. All of them have been examined by previous scholars. This paper will use Asian Development Bank statistics, World Bank database, WTO database, ASEAN Secretariat information and data, etc. The methodology is econometric analysis of time series (OLS, Original TSLS, TSLS-IV, and Group SURE & SEM) and Pooled Data Analysis.
Achievement
I presented my paper at the second day of the 44th Annual ASPAC Conference on Saturday 19th June 2010 in the after-lunch session from 1.30 pm to 3.00 pm. The chairman for this session is Professor Tsuneo Akaha from the Monterey Institute of International Studies & GSAPS Waseda University. My presentation session was held in the Room 242, Shattuck Hall, second floor, Portland State University. My paper is succesfully presented and getting some invaluable comments which enrich and fruitful my thesis for the future needs such as interim & defence exam as well as publication purposes.
Prior to the 44th Annual ASPAC Conference, I presented this paper in rehearsal sessions at the Monterey Institute of International Studies in California. It was a great experience that I got some invaluable comments for my paper as well as the tips & suggestions on how to be a good presenter at the international conference especially in meeting the need of American academician way of discussions.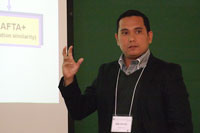 Confirmed by person in charge of project promotion
Report