GIARI
Research:Publications:Asian Regional Integration Review (ARIR)
"Asian Regional Integration Review Vol. 3 " is published.
2011.04.01
Editor's Note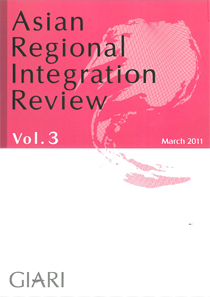 Tsuneo Akaha
As in the previous two issues published in 2009 and 2010, the current issue of Asian Regional Integration Review includes research reports by young scholars who have recently received a PhD or are currently pursuing a PhD, all with a focus on topics directly related to Asian regional integration. They all presented earlier versions of the articles included here at the Summer Institute on Regional Integration organized by the Global Institute for Asian Regional Integration (GIARI), Waseda University in August 2010. The current issue also includes reviews of two recent books on Asian regional integration.
This issue exemplifies the multidisciplinary nature of Asian regional integration studies as an academic field, with the six research reports anchored in economics, political science, history, and education. These articles also represent a diversity of theoretical underpinnings and methodologies. Their topics are of interest to academic circles, policy organizations, and business communities, and address questions about
the utility of free trade agreements for Japanese corporations;
the relevance of regional integration in East Asia/Southeast Asia for Central Asia;
the role of history politics in shaping Japan's relations with China and other neighboring countries;
the use of culture-based arguments in the discourse on human rights in Asia;

and

the role of English versus national languages in promoting the increasingly internationalized higher education system in the region.
The two book reviews introduce two anthologies representing empirical research and theoretical discourse by both junior and senior scholars in the field.
The first review discusses the pattern of human rights promotion in Asia and Europe, highlighting the implications of the "ASEAN way" for a future human rights regime in Asia and the complex and even conflicted process of human rights regime development in Europe.
The second book review critically examines the desirability and feasibility of the development of non-Western International Relations Theory in Asia.
If this issue stimulates the reader's interest in exploring new avenues of research and new directions of discourse on regional integration in Asia and beyond, its purpose will have been well served.
Contents
Editor's Note

Tsuneo Akaha
Contributors
Book Review Essays
Apirat Petchsiri, Jose Luis De Sales Marques, William Roth, eds., Promoting Human Rights in Asia and Europe: The Role of Regional Integration, Baden-Baden: Nomos Verlagsgesellschaft, 2009.


Miki Honda

Amitav Acharya and Barry Buzan, eds., Non-Western International Relations Theory — Perspective on and beyond Asia, London and New York: Routledge, 2010.


Seiko Mimaki
Asian Regional Integration Review Vol. 3